Loadstar Aughta B Dancing
Silver Dapple with star, strip and snip, 2 hind socks. Reg MHAA and IMHR.
February 2005.
BH: 21 inches.
Sire : Rapidash SK Aughta B Stormy
Dam : Loadstar Dance For Me


Star was a second offspring for both her parents and we were expecting something very nice...
She hasn't disappointed us at all.
She loves people and adores being the centre of attention. This little girl is a favourite of everyone who sees her.
From the day she was born she has been 100% comfortable around people, she has joined us for a swim in the pool, she loves to drag the kids off their play gym by their shirts and gets in the way when they want to swing...
Star is growing up now - while new foals are stealing her limelight she is maturing into a lovely girl.
She moves well and is beautifully put together.
Since her "dip in the pool" as a youngster she has become a real water baby, and loves to be hosed down while water bins are being filled.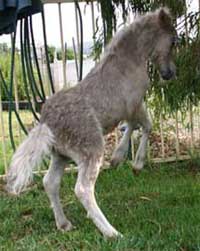 Star has given us her first foal ~ Rocket a lovely colt by River.
Full Pedigree || More photos || Foals