Loadstar Warriors White Noise

Chestnut Sabino Overo Colt with bright blue eyes.
Reg MHAA and AMHA(US), will be reg IMHR.
Full US breeding, will be DNA Parent qualified soon.
BH: 20.5" top of wither.
Sire : RFM Boogermans Ultimate Warrior (imp USA)
Dam : Lindan Melodys Fire
MHAA QLD futurity nominated.
Yoshi has been tested LWO+, homozygous agouti (bay) and negative for grey.

Yoshi is a very eye catching boy, he is very correct in every way with excellent legs and movement - see judges comments on his show page! - he is very similar to his lovely sire.

A young boy with a big future, he is a lovely type, has a top pedigree and as a bonus is an awesome colour, especially with his beautiful bright blue eyes.

Warrior is an awesome stallion and we are thrilled to have our first foal by him, he has crossed very well with our little Melody and we intend to re-do this cross very soon and try a for filly.

Yoshi is offered for sale purely because I cannot keep more stallions, but I will be very picky about his new home and Yosh will be used in my breeding plan until sold.

Update June 2013 - Yoshi's show career in QLD is going really well, with only a handful of shows, Yoshi is Supreme Exhibit from both MHAA foal futurities and AMHS Golden Buckle against good competition, and has other Champion/res champions to his credit. See his show results page for more details.

Extended Pedigree || Photos || Show results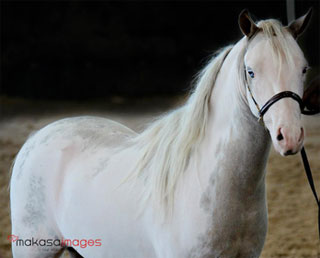 Above: photo by Makasa Images