Loadstar Dusk Til Dawn
Black.
September 2003.
Reg MHI and IMHR.
BH: 23 inches.
Sire : Meltyden Calypso Legend
Dam : Loadstar Dance For Me

Jette is a true horse in miniature, he has matured so nicely, he has fantastic length of rein, stunning head with his mums lovely soft eye and legs forever.
He has his sires stunning extravagant movement and is upright with a real look at me attitude, his top line is fantastic and he is beautifully balanced...


Jette was sold to Rebecca who has shown him with success as a colt. He has now been gelded and Bec hopes to hit the show scene again with him soon.
Before being gelded Jette sired one colt...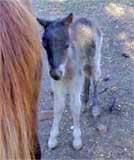 A lovely silver dapple boy from a silver chestnut mare.