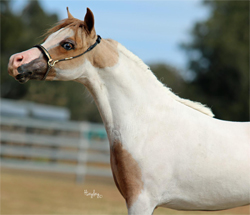 Photo by Hayley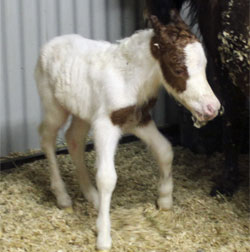 Loadstar Wizards Red White & Blue
Chestnut pinto with blue eyes.
Reg (pending) MHAA and AMHA(US)
BH: 22 inches.
Sire : Lindisfarm Tricksters High Wizardry (imp NZ)
Dam : Glenrowan Luckys Bye Bay Blues

Our first foal from Breeze and Wizard and he is just beautiful.
He is very correct, with long legs and a lovely head.

A very upright colt with lots of "look at me", he thinks he's pretty special :)

He has the typical Wiz baby temperament and calls loudly when he sees me, wanting lots of scratches.

There is so much of Wizard in this boy and he is also very similar to his paternal brother, the lovely gelding, Willoughby Park Gee Wiz, a two times National Grand Champion.

At this stage we are keeping Flag and hopefully he will mature as well as we expect.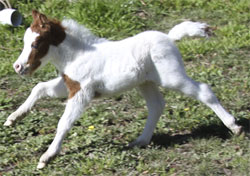 Flag is just starting in his show career with thanks to Renee Kricher as his trainer and I am thrilled with how well he is doing.