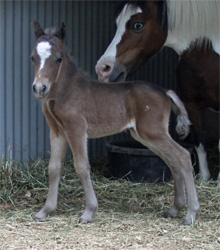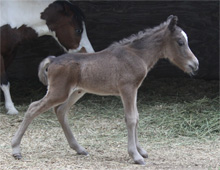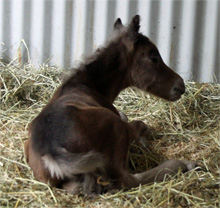 Loadstar HR Game 2 Play
Silver bay colt. SOLD
Reg (pending) AMHA (US) and MHAA.
BH: 22.5 inches.
Sire : Anyssa Park High Roller
Dam : Our Lil Dobbins Steppins Mooneclips

By using a Wizard grandson over Elle I was hoping to get the type of foal Elle gives me by Wizard, but a little smaller... I got the type, but not the height :)

With legs forever, a tight barrel and pretty head, this little boy is a lovely type and will be very eyecatching when his silver mane and tail grow in.
He is very uphill with an awesome shoulder and is very upright and full of "look at me" attitude.

A very strong baby at birth, despite his skinny little body :) He is a real thinker and at just a day old I could see him working new things out like a much older baby.

Dash loves people and calls out when ever he sees you.

We changed this boys name after 2 days because he became a total show off and races around like crazy to get our attention if we arent giving him cuddles.